No events content yet, check back later!
PAST EVENTS
---
Shred Day 2022
On February 11, 2022, from 1:00 to 3:00 PM, we conducted our Annual Shred Day as a drive-thru event. Our staff greeted everyone with a goodie bag full of surprises, and offered everyone well wishes! We chose the Virginia Beach SPCA as our charity for 2022, in memory of our beloved Pam Rapp. She loved animals, particularly her 4-legged furry family members over the years! We believe she would be happy with this decision. Our event was a tremendous success and we were able to donate $2,500.00 to honor her memory! We look forward to seeing everyone again next year, and anticipate that it will be an even bigger success. Thank you for your participation!

2021 Christmas Party
Our 2021 Christmas Dinner included our current staff, but also members from many previous years! We enjoyed an amazing dinner, shared love and laughter, and we were able to exchange a few gifts! We are so grateful that they could all attend and share the joy that was generated by this special occasion!

Shred Day 2021
Our annual Shred Day Event is a bigger success year after year, and this year was no exception!  We were not able to socialize, enjoy snacks, and visit like we normally have done in the past.  None the less, you all turned up for the "Drive-thru" option that we had in place to provide for social distancing, as well as the safety of all of our clients and staff.  We collected 1500 pounds of shred material!  This year we opted to support Seton Youth Shelters, and with the $1 per pound match that JJSA committed to, our clients and friends helped us donate $1500 to this very worthy cause!  We made "Goodie Bags" for everyone who stopped by with their shred material, that included a JJSA Mask!  The event was a huge success, regardless of the obstacles we faced.  Thank you all for helping us to support Seton Youth Shelters!
Shred Day 2020 
This was our 5th Annual Shred Day and they keep getting bigger and better every year! We enjoyed visiting with our clients as we did our part to help protect their identities and clean out a few attics. We shredded nearly 1000 pounds of paper. We had raffles and giveaways too that supported our Relay for Life team, JJSA - Planners for the Fight. We are proud to report with our clients help and paper shredded we were able to donate $1,150 to JJSA - Planners for the Fight. Thank you to everyone who came out!
United Planners Annual Partners Conference Scottsdale, AZ
In June Doreen and Kelly along with their spouses attended the United Planners Annual Conference at The Scottsdale Resort at McCormick Ranch in Scottsdale, AZ. It was three days filled with learning, networking, exploring and celebrating. They were even fortunate enough to enjoy lunch with our company founder, Joe Schopen and his wife Claire who reside in the Scottsdale area.
An Evening with the Tides – Client Appreciation Night
On June 16, 2018 we were thrilled to host our clients, family and friends to an evening of baseball, fireworks, food and fun. Thank you to everyone who was able to join us and make this a sell out event. We hope that you enjoyed it as much as we did. It is always great when we get to spend time with you and your families and friends. We look forward to many future events!
Hampton Roads Chamber Professional Women's Leadership Luncheon
The office attended the Hampton Roads Chamber Professional Women's Leadership Luncheon on Thursday, May 10 at the Holiday Inn Virginia Beach-Norfolk Hotel & Conference Center.
The speaker was nationally recognized author, Frances Cole Jones. She is the author of a number of books including "How to Wow." She shared great insights and practical ways to be effective in life and business. We are looking forward to diving into our new signed books!
It was a great event and we are always thrilled to spend time with other strong and empowered women.
Howard's Retirement Celebration
On October 11, 2017 we had the pleasure of celebrating the wonderful career of Col. Howard M. Williams, ret. at the Lynnhaven Fish House. Howard has been and advisor, mentor and trusted friend to so many of us through the years and we wish him much happiness as he begins this new chapter.
Shred Day 2016
This was our First Annual Shred Day. We enjoyed some social time with our clients as we did our part to protect their identities and a little for the environment too. We were also proud to support the American Heart Association's National Wear Red Day.
Shred Day 2017
We were thrilled to host our 2nd Annual Shred Day this year. There was a lot of great company and a lot of good done. This year for every pound of shredding we collected we donated $1 Seton Youth Shelters. Serving all of Hampton Roads, Seton Youth Shelters provides 24-hour emergency shelter for youth ages 9-17 years old. This program serves runaway/homeless youth and youth in crisis within their family, school and/or community. Seton Youth Shelters operates two shelters in Virginia Beach, one for boys and the other for girls. We were honored to do our part with a donation of $500. Thank you to everyone that came out to support this wonderful cause.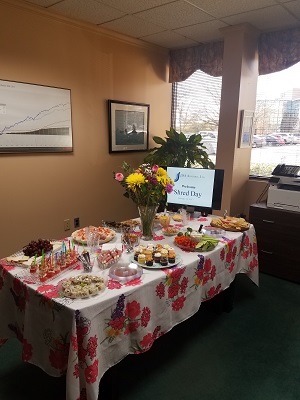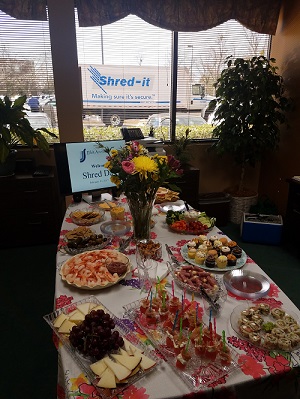 Client Appreciation Day 2017
In May 2017 we hosted our first client appreciation day. We spent the day visiting with each other and the animals. We shared a meal and got up close and personal with a few animals too. Thank you so much to everyone who was able to join us. It was a great success and we hope that you enjoyed it as much as we did! It was so nice to spend time with you and your families and friends. On behalf of all of us, thank you again for your trust and we look forward to serving you for many years to come.